Along with every guide book purchase, either electronic or printed, you get a set of GPS files in the open source GPX format. You can import these files into your GPS device and follow them on the trails.
In my opinion, the best way to get started with Gaia is by using your computer to download the GPS tracks from this website, create a FREE Gaia account (you can choose to upgrade to a paid subscription later if you want), import the GPS files into the Gaia account and organize them, and then install Gaia GPS on your mobile device, and then the data will sync down from Gaia Cloud to your device.
If you do not want to sign up for a Gaia account, FREE or otherwise, you can still use Gaia, but getting the GPS files into the app is much more difficult. Click the appropriate link for information on doing that with iOS or Android.
Download your GPS files from this website. Go you the My Account page and you will have a link to your entitled downloads after you purchase a book.
Extract the individual GPX files out of the Zip file. If you need assistance with this step, consult your local computer geek.
Go to the Gaia GPS website and sign up for a FREE account.
Click here for a discount on your membership, courtesy of Tom Seward.
Click the down arrow next to your profile name in the upper right and note the menu. Click Tracks to get started.

Click the "Upload a new track file" button in the upper right corner.
Click the Select a File button. Find the first GPX file and choose it, and create a name for the folder with a name similar to what the GPX file is named. It is best to use folders for organization, because when you are done you will have dozens of tracks, and more than a thousand waypoints.

Click the Upload button. When successful it will say "File uploaded to queue. "
It may take a few moments to upload the file and for Gaia to process it.
Note: You can click the "Map" link at the top of the page to see your progress. Then come back to the import page to proceed.
Repeat this process for each GPX file you extracted from the Zip file. Note: You cannot import the "All" GPX file. It is too big. Some GPS devices and apps can handle that much data in one file, but Gaia does not like it. However, you can skip Republic_North, Republic_South, and the same kind of stuff for Conconully, by importing only "Republic_All" and "Conconuly_All". Gaia will handle those OK.
The reason the files are divided up this way is that different GPS apps and devices have limitations, and others don't, and I am trying to accommodate as many as I can.
Once you have imported all of the GPX files, log into the App Store or Play Store on your mobile device, find and install the Gaia GPS app, and open it. It will ask you to sign in. Do so, and your imported data will automatically sync down to the Gaia app on your device.
Note: You will want to download some maps for offline use.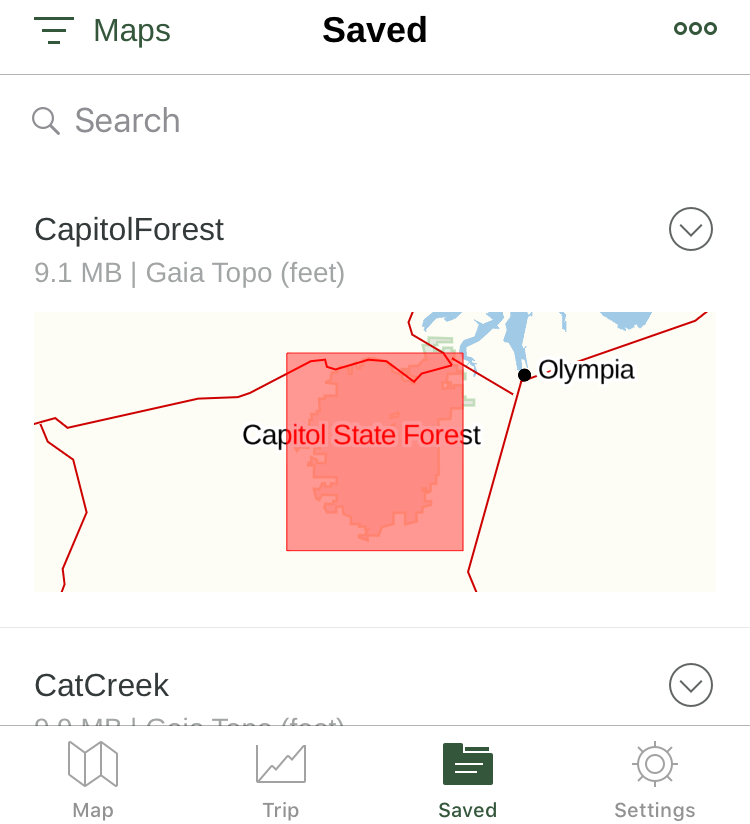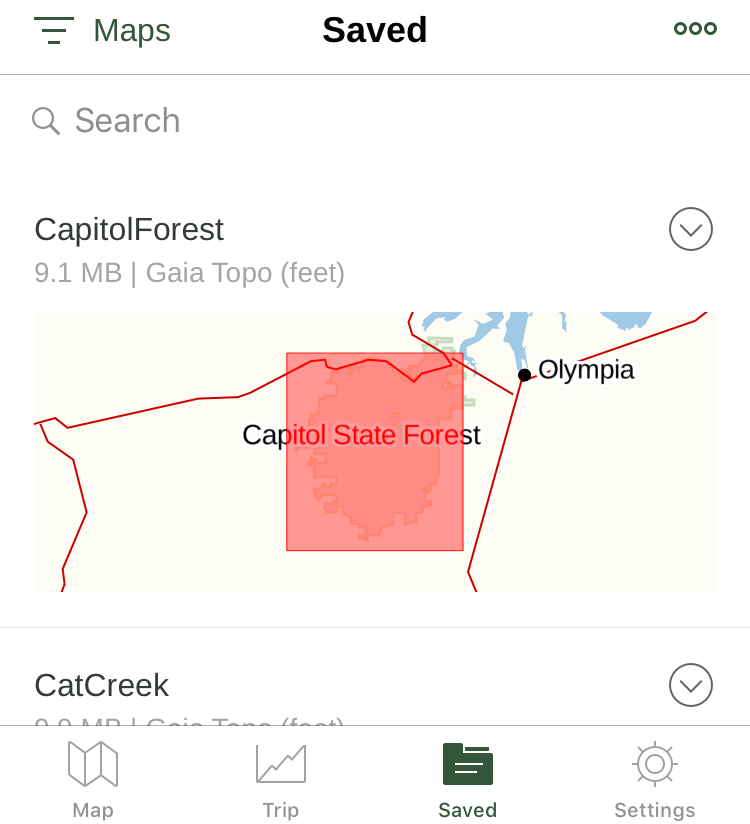 Without doing this, when you leave cellular service areas, you will still see the tracks and waypoints but you will not see other helpful information on the map like roads, elevation lines, rivers and lakes, etc. This is a PAID member option. You get a free trial period, but after that you will need to sign up for a subscription. These people need to get paid in order to feed themselves, keep the lights on and keep improving the app. It's well worth it.
Click here for instructions on downloading offline maps for iOS.
Click here for instructions on downloading offline maps for Android OS.