Today I visited Tahuya State Forest with Ethan, Graig, and Thomas. It's been a while since I was out there last. On the way, I met a fellow NW UTV Trail Riders member at a Park n Ride and sold him a set of springs to replace the sagging stock ones on his RZR. Thanks again, Mike!
The 4×4 clubs have been busy at Tahuya. I'd like to say they've been improving the place, and they probably feel that they have been. I like some of the things they've done, but I also feel that they've seriously damaged some of the trails. Current trail planners seem to have an aversion to any trail that you can just cruise on and enjoy some smooth rolling. So they seem to have taken an excavator and scooped huge chunks out of the trails. So it's TILT WAY LEFT! NOW TILT WAY RIGHT! NOW LEFT! NOW RIGHT! So you feel a bit like you're in an agitate cycle in a washing machine. One or two trails like that is one thing but when they start giving the entire place that treatment, it gets old. I understand that they are trying to make the place more interesting, but I feel they need to change it up a little instead of just digging holes on alternating sides of the trail every 50 feet and piling the dirt on the other side.
But overall, it was an enjoyable trip. We went across the top of the North loop, met a jeep guy who was kind enough to flag me down and tell me there was a busted Cherokee ahead so we could take an alternate trail around him. We headed down past the main entrance onto 55 Trail, and we were pleased to find that it was NOT choked up with stock pickups so we made good time. After that we cut over to the South Loop and hooked around to the West Loop. There is a more challenging qualifier gate there which we had fun with. After checking out the West Loop a bit we decided to give the rock gardens a miss and head back North. We were in a mellow mood and didn't want to break anything today. We worked our way up to the mud holes and watched some bikes play around while we figured out CTCSS privacy codes on our radios. After that we headed back up to the parking area.
Due to the  hard packed, melting and slippery snow & ice, we decided  it would be a better idea to back our trailers out BEFORE we loaded up the UTVs, and that worked out great.
On the way home we stopped at The Airport Diner in Bremerton, where I have always found good food and good service.
All in all, a mellow but satisfying day!
Here are some pics from today's adventure: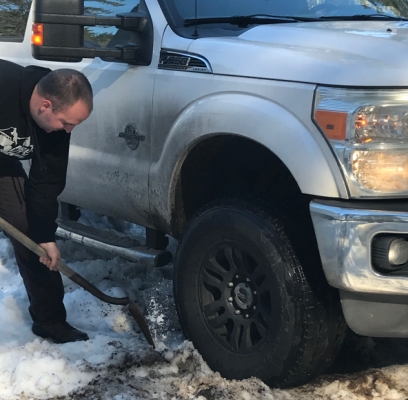 We had a little trouble with the icy parking lot. Fortunately we had shovels and some help.

There is a qualifier to go through on the way from parking to the trails, to keep the riff-raff out.
And a couple of short videos!